In Bloom
February 5, 2014
Plant name: Rhododendron X geraldii
Location: Hillside
Plant notes: After the rains in the early spring months, our hillside is covered in large pink blossoms. Rhododendron X geraldii is a hybrid between R. sutchuenense and R. praevernum that appears in garden collections. We have seven specimens on the hillside along the path down to the meadow. Presumably, these specimens were raised from seed of R. sutchuenense obtained from a collection where it had crossed with R. praevernum. We expect to see them begin to bloom very soon.
January 8, 2014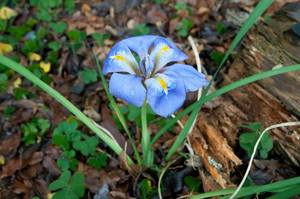 Plant name: Iris unguicularis
Location: Around courtyard
Plant notes: Iris unguicularis, or winter iris, is our plant of the month for January. Unlike other iris species, it blooms *right now* in the winter months. A native of the Mediterranean, it grows well in dry sites in moderate climates, like at KBG. I. unguicularis was grown in the garden by Mareen for years, but our specimens weren't blooming each year and had mostly been forgotten until they reappeared a few years ago. They were moved to their current locations in and around the courtyard during the parking lot construction in 2012.
December 21, 2013
Plant name: Hamamelis mollis
Location: Entryway along the boardwalk
Plant notes: Is there a better way to banish the January blues than with fragrant, cheerful flowers? We don't think so. Chinese witchhazel (Hamamelis mollis) is fabulous in January and February as its yellow filamentous flowers open and release their perfume into the Garden. The flowers' pollen is a valuable food source for hummingbirds during the lean winter months. This remarkably tolerant shrub has few insect and disease problems and achieves a graceful form when shaped with skillful pruning.
October 12, 2013
Plant name: Elaeagnus macrophylla
Location: Front gate
Plant notes: The subtle fragrance of Elaeagnus macrophylla, or oleaster, fills our entryway each fall. Have you noticed it? Growing up and around a large cedar tree (Cedrus libani) with our kiwi vine at the front fence, this shrub is as inconspicuous as its flowers. But, on closer inspection, the flowers are fragrant and charming and the leaves are silvery and undulating. Native to Korea and Japan, it is easy to grow and does well in a variety of conditions. Ours was grown from a cutting from the Ballard Locks.
September 15, 2013
Name: Euonymus latifolius (Spindle tree)
Location: By nursery in meadow
Plant notes: This shrubs produces tiny green flowers in spring that develop into large, ornamental fruits with dangling seeds in the fall. Native to Europe and the Middle East.
July 27, 2013
Plant name: Rhododendron auriculatum
Location: In the main entry way, to the left.
Plant notes: Tall tree, with white fragrant flowers. Native to China. These large specimens were moved in preparation of the parking lot in 2012 using excavators. The specimens bloomed in August 2013.