In Bloom
Plant of the Month: September 3, 2014
Plant Name: Cyclamen hederifolium
Plant Location: Everywhere in the understory of the garden
Plant Notes: A classic sight when wandering the grounds of KBG in the fall, Cyclamen hederifolium (fall-flowering cyclamen) is a charming perennial that is one of the most widely-cultivated cyclamen species in the world. Its pink and white flowers grace the understory of woodlands and brighten up the late summer when many other plants begin to go dormant. While normally blooming in the fall, some of our plants began to bloom in late July and early August this year! This plant is available in MsK Nursery.
Plant of the month: August 4, 2014
Plant name: Eucryphia glutinosa
Plant location: Entryway to the west of the courtyard under the Rhododendron auriculatum grove
Plant notes: Eucryphia glutinosa, also known as brushbush, is a charming small tree that demands attention during August when it blooms. Native to Chile, the beautiful white blossoms attract both bees and visitors. It also provides nice fall color. Our specimen is located just west of the cottage in the courtyard...make sure to look up into the canopy as you walk by! This plant is available at MsK Nursery.
Plant of the Month: July 2, 2014
Plant name: Notholithocarpus densiflorus var. echinoides
Plant location: In the meadow
Plant notes: The shrubby serpentine variety of the tanbark oak, Lithocarpus densiflorus var. echinoides is a charming shrub for any sunny dry landscape. A naturally occurring dwarf variety of shrub tanbark oak, this plant will never get taller than 10 feet. Young leaves are covered in small fuzzy hairs and its unique inflorescence adds an interesting texture to the summer garden landscape. Our specimen is growing in the small serpentine bed in the meadow. KBGF staff collected some cuttings of this plant during our trip to the Siskiyous in 2013 to grow in the garden.
Plant of the Month: June 2, 2014
Plant Name: Cornus kousa
Plant Location: By parking lot and in courtyard.
Plant Notes: The Korean dogwood, or Cornus kousa, is a majestic tree that provides subtle color when it blooms in early summer. Native to Korea, Japan, and China, its large white bracts resemble our native dogwood (Cornus nuttalli) but does not suffer from the anthracnose infections that trouble our native trees. It is low maintenance, provides excellent fall color, and has striking red fruits. We have several specimens in the garden, and now is the time to enjoy their flowers. The largest specimen is putting on quite a show in the parking lot...you can view it by simply driving by. This tree is available at MsK Nursery.
Plant of the Month: April 2, 2014

Plant Name: Mattuecia struthiopteris
Plant Location: Below Cornus kousa by Parking Lot.
Plant Notes: The beautiful ostrich fern, or Mattuecia struthiopteris, is a glorious early spring fern native to temperate regions of the Northern Hemisphere. Our specimens were historically grown by Mareen in the garden. These ferns spread by rhizomes and all of MsK Nursery's stock are from divisions of these original plants.
Currently in Bloom: March 10, 2014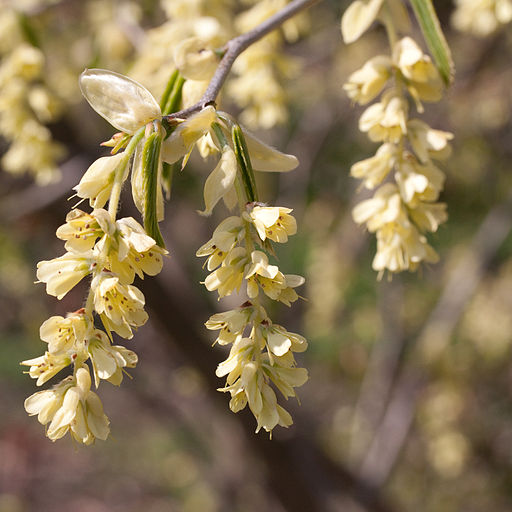 Plant name: Corylopsis glabrescens
Location: Along entryway under the Stewartia monodelpha
Plant notes: The beautiful winterhazel, or Corylopsis glabrescens, is a multistemmed ornamental shrub native to Japan and Korea. Its fragrant blossoms emerge in late spring. Our specimen was planted by Mareen in 1975. Like many of the trees and shrubs in the garden, she pruned it into its current charming shape. Holding its own under the iconic Stewartia monodelpha, it adds a beautiful welcome at the entryway arbor.